A new all-in-one instrument for monitoring growing plants and environment.
OVERVIEW
The new PTM-50 Monitor is a truly state-of-the-art automatic instrument for long-term recording physiological characteristics of intact plants.
The Monitor has four inputs for original motorized self-clamping leaf chambers. The chambers are normally open and encompass a leaf only for about 20 seconds to measure both CO2 and H2O exchange rates with minimal disturbance of natural leaf conditions. The standard round LC-10R Leaf Chamber with 10 cm2 aperture is suitable for wide variety of broad-leaf plants. The optional rectangular LC-10S Leaf Chamber is also available on demand.
The Monitor has two independent open-path channels for separate simultaneous analysis of ambient and after-leaf air. This provide perfect tolerance to fluctuations of ambient concentration of carbon dioxide and water vapor that is typical for greenhouses and growth chambers.
The Monitor provides fully automatic continuous operation with sampling rate selectable from 5 to 120 minutes.
The Monitor has both the 2.4 GHz RF modem and optional the 3G modem onboard. The RF modem is used for direct communication with a user's PC and with optional wireless Phyto-Sensors™.
The overall configuration of the PTM-50 Monitor is shown below: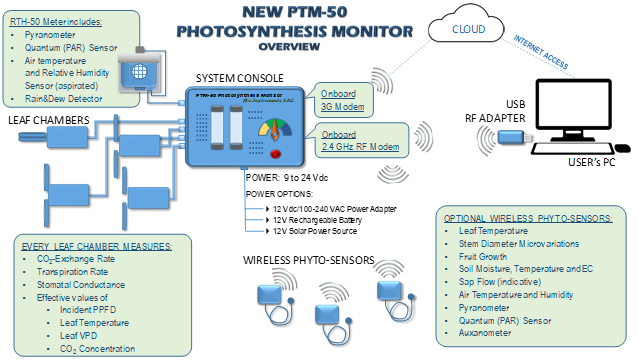 BASIC PERFORMANCE SPECIFICATION
| | |
| --- | --- |
| Mode of operation | Continuous automatic |
| Number of leaf chambers | 2 (min.) to 4 (max.) |
| Type of leaf chamber | Motorized, normally open |
| Leaf chamber sampling mode | Sequential |
| Chamber measurement cycle duration | About 20 s |
| Sampling time interval | 5 to 120 min, user-defined |
| Leaf chamber aperture | 10 sq. cm |
| Standard hose length and inner diameter | 4 m, ID=2.4 mm |
| CO2 measurement principle | Non-dispersive infrared analyzer |
| CO2 concentration measurement range | 0 to 1000 ppm |
| Measurement range of CO2 exchange | -70 to 70 µmolCO2m-2s-1 |
| H20 measurement principle | Integrated air temperature and humidity sensor |
| Air flow control rates | Adaptive, from 0.25 LPM to 0.5 LPM, |
| Power requirements | 9 to 24 Vdc |
| Communication | Built-in 2.4 Ghz RF modem with the USB RF Adapter for PCOptional 3G Modem |
| Operating temperature | 10 to 40 °C |
| Environmental protection index | IP55 |
BASIC SET for ORDERING
1 x System Unit
2 x LC-10R Leaf Chamber
2 x Cable/Hose Duct for connecting leaf chambers (3.5 m)
1 x Stainless Steel Tripod (1.5 m)
1 x AC/DC Power Adapter
1 x USB Communication Adapter
1 x Container with CO2 Absorber
Software (English, Windows)
User's manual (English)
OPTIONAL PARTS and ACCESSORIES
1 or 2 x LC-10R leaf chamber
1 or 2 x Cable/Hose Duct for connecting leaf chambers (3.5-m)
1 x RTH-50 Meter with the Pyranometer, Quantum (PAR) Sensor, Air Temperature, Air Relative Humidity, Rain&Dew sensors.
1 x 1.5-m stainless steel tripods for leaf chambers
Wireless Phyto-Sensors™ Accent
Leaf Chamber

Leaf Chamber

PTM-50